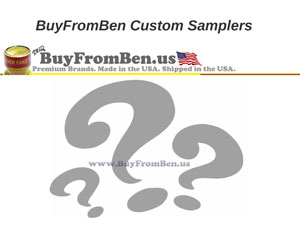 Are you choosy about what you like but don't want to miss out on my quantity discounts?
If so I have a really simple solution for you.

As you are shopping at BuyFromBen you can now mix & match bottles of the same size ( 10ml, 15ml or 30ml ) and receive the same discounts as if you had bought more than one of the same size product.
Here's an example:
Let's say you add one 10ml Super Rush, one 10ml Amsterdam and one 10ml English Royale to your shopping cart. When the cart totals up your order it will show the same discounts as if you had ordered three of the same 10ml product. It's not limited to three either. You can add 5 or more of your favorite 10ml bottles and still qualify for the free bottle.
Remember, this is not limited to 10ml sizes.
This also works for 15ml and 30ml sizes. As long as the bottles are of the same size your shopping cart will automatically tally up your multi-bottle discounts and apply them at checkout.
If you should have any questions about the BuyFromBen Custom Sampler please feel free to drop me a message through the chat window or shoot me an email through the contact form.
I hope you enjoy building your own BuyFromBen Custom Sampler as much as you'll enjoy the experience of our premium brands!
When you are ready Continue shopping here.