NOTICE:
These products contain isobutyl nitrite CAS 542-56-3 / UN2351 and are lawfully manufactured, labeled, marketed, and sold for use as specialty commercial solvent cleaners in compliance with 15 U.S. Code § 2057a which bans the use of isobutyl nitrite or other butyl nitrites for human consumption. Use of them as 'poppers', 'sex inhalants', 'liquid incense', 'liquid aroma' or any other purpose that may be used for inhaling or otherwise introducing butyl nitrite into the human body for euphoric or physical effects is banned by the US Consumer Product Safety Commission.
Service is my #1 priority. However, any emails referencing the use of these products in a manner that is inconsistent with their labeling will not be replied to.
Insuring your satisfaction with your purchase is my primary concern.
Please take a few moments to scan through these FAQ's which will hopefully address any concerns or questions that you may have. If not please proceed to the contact form link below. Thank You.
Forgot your password?
You can recover your password by clicking here.
Order Tracking & Returns: You can find the Online Order Tracking here. You can read the Returns Policy here.
Please note, I do not take orders over the phone or by email.
Online ordering utilizes a number of fraud protection protocols that I do not like to bypass. Additionally when you order online I do not handle your credit card information. No liability for me and an extra added layer of security to protect you, the Customer.
Shipping Restrictions: These products are regulated by the Federal Government as Class 3 Flammable Liquids. As such I cannot ship them outside of the contiguous 48 United States (no Hawaii or Alaska shipments) nor am I able to ship them to PO Boxes, APO or AE addresses nor any other military addresses. The issue is that isobutyl nitrite is flammable and the caps are not sealed for air transport. Priority mail occassionally uses commercial flights and at high altitude in an unpressurized cargo hold the contents can vent due to pressure differences inside/outside the bottle.
Credit Card purchases: When purchasing by credit card your statement will be billed as BUYFROMBEN.US.
Check Purchases: When purchasing by check your bank statement will be debited as Intelligent Solution Company, Inc. A $25 service fee will be charged for returned checks.
I would like to mail in a check or money order.
To do so please follow the below steps:
1. Shop as you normally would.
2. When you get to the check out payment page you will see a link that reads \'Click here to pay by physical check or money order\'.
3. Click that link.
4. A new window will pop up with your order, including all discounts, along with my mailing address.
5. Print that page out, mail it in and I will then package and mail your order out the next business day with delivery to your door in 2-3 business days.
When will my order ship? All orders are packaged and shipped the next available business day. Please note these are business days and exclude weekends. A tracking email will be sent to you at time of shipment. You can find the Online Order Tracking here.
When will my order arrive? Expect delivery within 2-3 business days. Please note these are business days and exclude weekends. A tracking number will be emailed to you at time of shipment. You can find the Online Order Tracking here.
How much is shipping? Orders over 150.00 receive free shipping. Flat rate shipping on all other orders are 9.95.
How is my order packaged? Safety first ... These products are classified as Class 3 Flammable Liquids by the FAA and DOT. Products on this website not only require special packaging and markings but the Federal Government requires all shippers of these Dangerous Goods to be trained and certified to package Hazardous Materials. When you buy from me you can rest assured that all my certifications are current and your order will be packaged securely & adhere to all relevant Federal Regulations regarding the shipping of these products. This protects both You and I. I have been fulfilling orders for close to 15 years and my loss rate is very close to zero.
In the event that you should decide to order from another vendor I urge you to insure they have the proper certifications and that you fully review their shipping policies regarding the transportation of these Federally regulated products.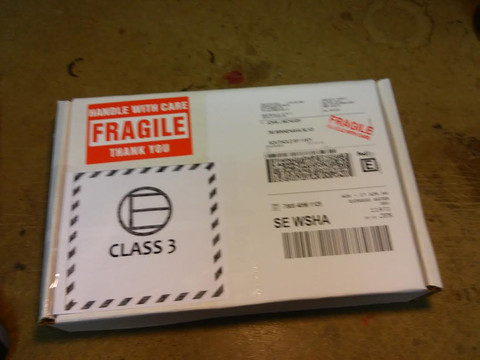 All items are sealed in a zip lock bag with vermiculite to absorb any potential leakage.

Sealed bag is then placed in a cushioned bubble bag.

Package is sealed in an additional zip lock bag.

Packaging is then placed in a 200lb crush proof box with appropriate markings.
Additional helpful links:
You can recover your password by clicking here.
You can find out more About Us here.
You can find the Return Policies, Privacy Notice & Conditions of Use here.
In the event you cannot find the information you are searching for you can Contact me here. Expect a response within 24 hours. Thank You!